Certificates of Authenticity are much more than little bits of paper that you stick on the back of a reproduction.

A COA is a critical part of authenticating your artwork, whether it's representing a fine art reproduction or an original. While a COA is not formally required to prove that an original work is genuine, it adds value and offers the client some relevant information and assurance about the piece.

In relation to Limited Edition Reproductions, a COA helps to ensure that the reproduction purchased is an authentic and authorised copy of your original work. There are no laws or authorities in Australia who control or monitor COA's, unlike the US where every state seems to have its own laws on the matter. So it's up to you.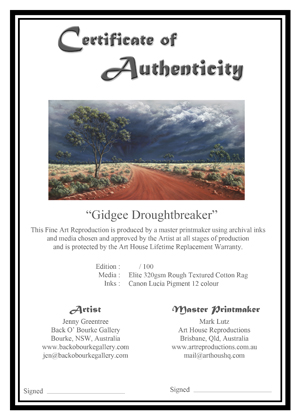 There are some important points that should be on a COA for a reproduction...
Artwork title

The Edition Number

The media and inks used

Artist's name

Artist's signature (not digitally signed - it needs to be a real signature)

Artist's contact details
Other optional information depending on the size of your certificate and space...
A picture of the artwork

A story about the artwork

The printmaker's signature

Any warranty provided such as the Art House Warranty



COA's are typically produced and supplied by the artist when a reproduction is purchased. If a reproduction is sold from our site www.buyartnow.com.au, we will email you the client's details so you can post them the certificate directly.

We can offer generic certificate like the one below that has no image and you simply fill in the blanks. These can be purchased in lots of 20 for $10. They will have the media of your choice already in place.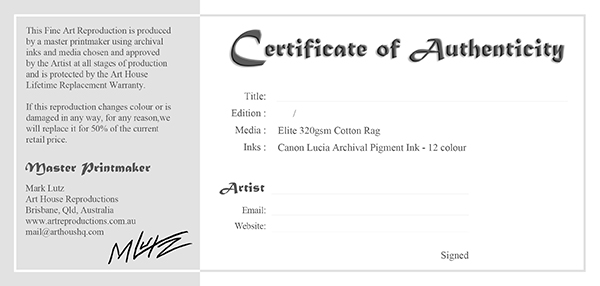 While these generic certificates serve a purpose, ask yourself... Which do you think your clients would prefer - generic or something more personal from you?

PROMOTIONAL MATERIAL
As part of TCASS and www.buyartnow.com.au, we suggest that when we make a sale from our site, and you post your certificate to the client, you might like to add some more information about you and your art, a personal letter perhaps, inviting them to visit your website or gallery to see more if your work.

ADD THEM TO YOUR DATABASE
importantly, add their details to your database immediately so you can keep in touch via newsletters/email so that down the track when you have an exhibition or offer new work, you can invite them to look at it. Remember we are not like other galleries - we give you the names of those who buy your art so you can put it to good use and help grow your business.