I get asked a lot by artists mostly but photographers as well to suggest a few standard sizes for their images so that customers can go down to Ikea or Big W and save some money by buying cheap frames.
I see two major problems with this concept. Let's deal with the 'cheap frames' idea first.
Why on earth would you want to make it easy for your artwork or photography to be presented in the cheapest crappiest frame someone can buy? Do you not value and respect your own work enough to suggest to clients that they should visit a qualified framer and have the work framed to suit their tastes and home decor? Are you assuming they have no taste and don't want quality things in their home? If you believe this then you would have to ask yourself "Why did they buy from you?" There's a scary thought!
The 'standard sizes' argument gets a little technical, involving maths, but as most of you are very visual people, I'll have pictures as well as words and numbers :).
Listed below are lots of typical sizes that artists and photographers work with. I've sorted them into matching height x width ratios (the maths part). I've shown the size in inches first because even though we've been metric here in Australia for 40 years, these sizes in inches have been around much longer and you know how most people feel about change?
2:3 Ratio
3:4 Ratio
A Series Sizes
Other Various Ratios
4″ x 6″
or 10.2 x 15.3cm
6″ x 8″
or 15.3 x 20.3cm
A5 – 5.83″ x 8.27″
or 14.8 x 21cm
5″ x 7″
or 12.7 x 17.8cm
8″ x 12″
or 20.3 x 30.5cm
12″ x 16″
or 30.5 x 40.6cm
A4 – 8.27″ x 11.7″
or 21 x 29.7cm
8″ x 10″
or 20.3 x 25.4cm
12″ x 18″
or 30.5 x 45.7cm
18″ x 24″
or 45.7 x 61cm
A3 – 11.7″ x 16.5″
or 29.7 x 42cm
10″ x 12″
or 25.4 x 30.5cm
16″ x 24″
or 40.6 x 61cm
24″ x 32″
or 61 x 81.3cm
A2 – 16.5″ x 23.4″
or 42 x 59.4cm
11″ x 14″
or 28 x 35cm
20″ x 30″
or 50.8 x 76.2cm
30″ x 40″
or 76.2 x 101.6cm
A1 – 23.4″ x 33.1″
or 59.4 x 84cm
16″ x 20″
or 40.6 x 50.8cm
24″ x 36″
or 61 x 91.4cm
 
A0 – 33.1″ x 46.8″
or 84 x 118.9cm
20″ x 24″
or 50.8 x 61cm
30″ x 45″
or 76.2 x 114.3cm
 
 
24″ x 30″
or 61 x 76.2cm
So now, here's what these ratios look like when we lay them on top of each other…

You can see how, when one side remains a constant length, the different ratios cover different areas. This basically means that if you paint an original that is say, 20″ x 30″ (2:3 ratio), you can't offer an alternative size of 16″ x 20″ (4:5 ratio). The correct alternatives would be 16″ x 24″ or 13.33″ x 20″ to maintain the original ratio.
Here's where the whole process of thinking in "standards" falls over… matting your photos or reproductions.
The moment you add a matte to a print, unless it's square, you change the ratio of the outside matted size. You can see here that if you take a 20 x 30cm image, and add a 5cm matte, the ratio changes depending on how wide the matte is and whether you overlap the image or leave some border showing. Each change creates a new ratio.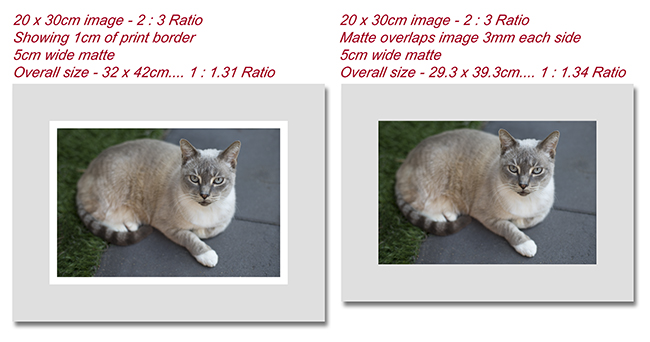 There you have it. Like it or not, you are working in an industry where standard sizes don't really help you all that much.
I believe that when you create an artwork, or a photograph, you have some idea of how you think it would be best displayed. Your clients however will most likely have different ideas. I have seen cheap $20 prints in $2000 frames and original artworks framed poorly.
Once you sell your work, you have no control over what happens to it. Accept that and allow the client to frame and display the work according to their tastes and budget.